On a mission trip in Colorado, we decided to do some shopping in downtown Denver, where I stumbled upon
Yum Yums Delights
, a small bake shop that served cupcakes and cheesecakes and such. They looked so delicious, I just had to try one or two.
This was the Strawberry Cloud", a white cake with vanilla buttercream and strawberries. The cake was too light, with little flavor, and the meringue textured frosting clashed with the overly soft cake. Not good eats. But the presentation was beautiful. A very lovely looking cupcake.

Overall Rating: ☆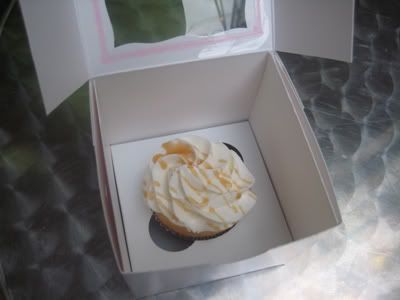 This was the "Dulce de Leche" cupcake, a caramel cake with vanilla buttercream and caramel syrup. Contrary to the strawberry number, this one was good! I ended up sticking it in the fridge overnight and ate it cold, which made the meringue-ish frosting and caramel more like ice cream and brought out the flavor in the cake. I rather enjoyed it.

Overall Rating: ☆☆☆