The Dozen Cupcakes Quiz
I adore the variety of flavors and the unique look of Dozen Cupcakes' creations, and so I thought I would create a little quiz to determine what cupcake you are!
I turned out to be the pancakes and syrup cupcake... interesting.
Leave a comment with your results! I bet there's a lot of copacabanas out there.
The Dozen Cupcakes Quiz
Pancakes and Syrup Cupcake
"you won't believe it: a pancake cupcake topped with maple buttercream, available with or without a piece of local bacon"

You are very laid back and very traditional. You like to spend your free time lounging around in flannel pajamas, sipping hot coffee and reading by the fireplace. Nothing much perturbs you, and you settle household disputes through "family conferences" around the kitchen table. Family is important to you, and during the holidays, your house is always full of relatives!
Fun quizzes

,

surveys

&

blog quizzes

by
Banana Split Cupcakes



When I first found out that we were evacuating my college campus due to hurricane Gustav, I was quite upset, but the thought of home (and all of my baking supplies) was a bit of a comfort.


I knew I had to make something good because I don't know how long it will be before I can bake again, so... after flipping through my various cupcake books and stalking my favorite cupcake blogs, I stumbled across

How to Eat a Cupcake

's recipe for Banana Split Cake.

Perfect!




The cake was moist and dense, and utterly delicious! Paired with fluffy whipped cream frosting and chocolate syrup, this was a hit with everybody in my household.



Ingredients:
3 cups all-purpose flour
2 cups white sugar
1 teaspoon baking powder
1 teaspoon salt
1 teaspoon ground cinnamon 
3 eggs, beaten
1 1/2 cups vegetable oil 
2 teaspoons vanilla extract
1 (8 ounce) can crushed pineapple, drained 
1 cup chopped pecans 
2 cups diced bananas

and I added 1/4 cup chopped maraschino cherries as well

Directions:
Preheat oven to 350 degrees F (175 degrees C). Line muffing pan with cupcake liners.
Combine flour, white sugar, baking powder, salt, and cinnamon in a large bowl. Add eggs and oil; stir until moistened. Do not beat. Stir in bananas, 2 teaspoons vanilla, pineapple, and pecans walnuts (and cherries if using).
Bake for about 26 minutes, or until golden brown around the edges. Cool on a wire rack for 10 minutes. Remove from muffin pan and cool completely on wire rack.



Whipped Cream Frosting

joyofbaking.com

Ingredients:
1 cup (236 ml) heavy whipping cream that is ultra pasteurized
1/2 teaspoon pure vanilla extract
1 tablespoon (14 grams) granulated white sugar


Directions:
In a large mixing bowl place the whipping cream, vanilla extract, and sugar and stir to combine. Cover and chill the bowl and beaters in the refrigerator for at least 30 minutes. When chilled, beat the mixture until stiff peaks form.
Red Heads
Red Velvet Cupcakes with Cream Cheese Icing
I made these for a baby shower for a friend of my mother's. The nursery is kind of a jungle theme, you know, greens, yellows, and browns... hence the frosting colors.

I'm not going to lie, I hate working with cream cheese frosting. It's terribly difficult getting it to hold it's shape and must be refridgerated at all times or else it will melt all over the place, but it does look spectacular next to the deep red of the cake.
Chocolate from the Cake Doctor
Makes 24 cupcakes
Ingredients:
1 package German chocolate cake mix with pudding 
2 cup sour cream
1/2 cup water
1/4 cup vegetable oil
3 large eggs
1 bottle (1 oz) red food coloring
1 teaspoon pure vanilla extract
Directions:
1. Place a rack in the center of the oven and preheat to 350 degrees F. Line 24 muffin cups with paper liners. Set the pans aside.
2. Place the cake mix, sour cream, water, oil, eggs, food coloring, and vanilla ina large mixing bowl. Blend with an electric mixer on low speed for 1 minute. Stop the machine and scrape down the sides of the bowl with a rubber spatula. Increase the mixer speed to medium and beat 2 minutes more, scraping the sides down again if needed. the batter should look well combined. Spoon the batter into the lined muffin cups, filling each liner 2/3 of the way full. Place the pans in the oven.
3. Bake the cupcakes until they spring back when lightly pressed with your finger, 20 to 25 minutes. Remove pans from oven and place them on wire racks to cool for 5 minutes. Then remove from pans and cool on wire rack for 15 minutes.
Makes 2 Cups
Ingredients: 
4 oz cream cheese
1/2 cup unsalted butter, room temperature
Pinch salt
2 1/4 cups confectioner's sugar, sifted
Directions:
1. In a bowl, using an electric mixer on medium-high speed, bat cream cheese, butter and salt until creamy. With mixer on low speed, beat in sugar, 1/2 cup at a time. Then increase speed to medium-high and beat until fluffy.
2. Spread frosting over cooled cupcakes and refrigerate until ready to serve or for up to 1 day.
Plain Janes






Well, a few of my mother's friends took me to see "Jersey Boys" and I had so much fun that I knew I had to make it up to them somehow, and so, uninspired, I made a batch of basic white cupcakes with vanilla buttercream. 

Never underestimate the power of a simple recipe. These were delicious!




White Cupcakes


125 Best Cupcake Recipes


Yields 12 cupcakes


Ingredients:
2 cup all purpose flour
1/2 teaspoon baking powder
1/4 teaspoon baking soda
pinch salt
3/4 cup granulated sugar
1/4 cup unsalted butter, room temperature
2 egg whites
1 teaspoon almond extract
2/3 cup buttermilk

Directions:
1. Preheat oven to 350 degrees F and line muffin pan with paper liners.

2. In a small bowl, mix together flour, baking powder, baking soda and salt.

3. In a bowl, using an electric mixer, beat together sugar and butter until well combined. Add egg whites, one at a time, beating well after each addition. mix in almond extract. Alternately beat in flour mixture and buttermilk, making three additions of four mixture and two of butter milk, beating until smooth.

4. Scoop batter into prepared pan. Bake in preheated oven for 20 to 25 minutes or until tops of cupcakes spring back when lightly touched. Let cool in pan on rack for 10 minutes. Remove from pan and let cool completely on rack. top Cooled cupcakes with frosting.
Phood Photography
Here is the link to a very fascinating article rich with tips on how to get your food "picture perfect", with styling information, camera instructions, and more! As a novice blogger, it is a great source of advice!
"Today food photographer Jonathan Pollack shares some wonderful food photography tips (and some positively mouth watering photos. Get more tips like this via email.
The food photography techniques in this post are ones that I use in photos I take for both a local food magazine and my wife's cupcake blog. I've broken these techniques down into a few areas that give some ideas and suggestions to help you photograph and showcase your food..."
Yum Yum Delights in Denver, CO
On a mission trip in Colorado, we decided to do some shopping in downtown Denver, where I stumbled upon
Yum Yums Delights
, a small bake shop that served cupcakes and cheesecakes and such. They looked so delicious, I just had to try one or two.
This was the Strawberry Cloud", a white cake with vanilla buttercream and strawberries. The cake was too light, with little flavor, and the meringue textured frosting clashed with the overly soft cake. Not good eats. But the presentation was beautiful. A very lovely looking cupcake.

Overall Rating: ☆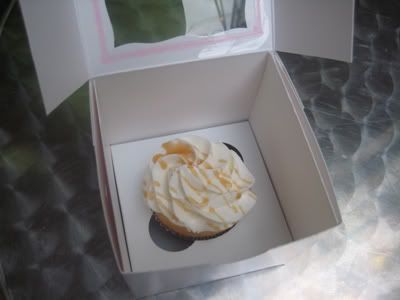 This was the "Dulce de Leche" cupcake, a caramel cake with vanilla buttercream and caramel syrup. Contrary to the strawberry number, this one was good! I ended up sticking it in the fridge overnight and ate it cold, which made the meringue-ish frosting and caramel more like ice cream and brought out the flavor in the cake. I rather enjoyed it.

Overall Rating: ☆☆☆

Vanilla Bean Cupcakes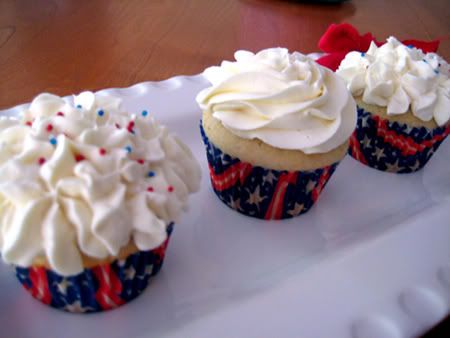 I made these for a 4th of July "Dive In" (movie in the pool) party and they were a hit! The bean gives the cupcakes a strong vanilla flavor without the alcohol tinge. The batter was very dense, but the cupcakes came out light and soft, very delicious. Topped with a basic vanilla buttercream and festive sprinkles!

Makes about 28 cupcakes

Ingredients:

4 cups flour

2 cup sugar

3/4 cup milk

1 cup butter, at room temperature

2 egg, at room temperature

1 vanilla bean, cut length-wise

4 teaspoons baking powder

2 teaspoon salt

1 teaspoon pure Mexican vanilla extract

Directions:

1. Preheat oven to 350 degrees f.

2. In a small saucepan, heat the milk and vanilla bean together until the milk just boils. Remove from heat and let cool for about 1 hour.

3. Remove the vanilla bean. Scrape out the seeds from the vanilla bean and add them to the milk. Discard the remaining bean pod.

4. In a medium bowl, whisk together the salt, flour and baking powder.

5. In a large bowl, cream together butter and sugar until light and fluffy. Add egg and beat well.

6. Alternately add the flour and milk mixture until well combined.

7. Divide batter into about 20 lined or greased cupcake wells.

Bake 15-20 minutes or until a toothpick inserted in the middle of the middle cupcake comes out clean. Cool on a wire rack.