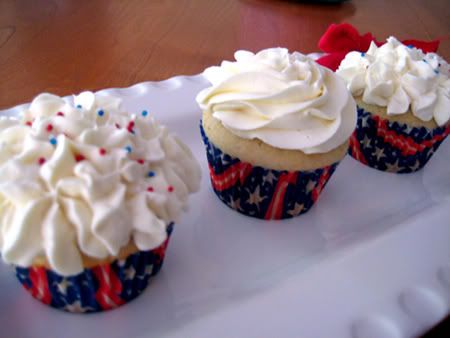 I made these for a 4th of July "Dive In" (movie in the pool) party and they were a hit! The bean gives the cupcakes a strong vanilla flavor without the alcohol tinge. The batter was very dense, but the cupcakes came out light and soft, very delicious. Topped with a basic vanilla buttercream and festive sprinkles!

Makes about 28 cupcakes

Ingredients:

4 cups flour

2 cup sugar

3/4 cup milk

1 cup butter, at room temperature

2 egg, at room temperature

1 vanilla bean, cut length-wise

4 teaspoons baking powder

2 teaspoon salt

1 teaspoon pure Mexican vanilla extract

Directions:

1. Preheat oven to 350 degrees f.

2. In a small saucepan, heat the milk and vanilla bean together until the milk just boils. Remove from heat and let cool for about 1 hour.

3. Remove the vanilla bean. Scrape out the seeds from the vanilla bean and add them to the milk. Discard the remaining bean pod.

4. In a medium bowl, whisk together the salt, flour and baking powder.

5. In a large bowl, cream together butter and sugar until light and fluffy. Add egg and beat well.

6. Alternately add the flour and milk mixture until well combined.

7. Divide batter into about 20 lined or greased cupcake wells.

Bake 15-20 minutes or until a toothpick inserted in the middle of the middle cupcake comes out clean. Cool on a wire rack.